Two resolutions initiated by NAM were adopted at the 46th session of the UN Human Rights Council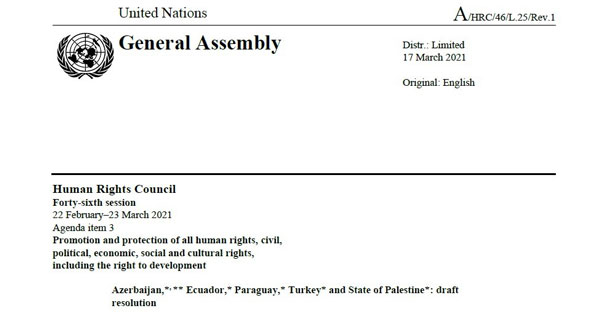 The Republic of Azerbaijan on behalf of the Non-Aligned Movement together with Ecuador initiated the resolution titled "Ensuring equitable, affordable, timely and universal access for all countries to vaccines in response to the coronavirus disease (COVID-19) pandemic" at the 46th session of the United Nations Human Rights Council. On 22 March 2021 the Council adopted the resolution by consensus with 136 co-sponsorships. By the said resolution, the Human Rights Council called upon States and other relevant stakeholders to take appropriate measures to guarantee the fair, transparent, equitable, efficient, universal and timely access and distribution of safe, quality, efficacious, effective, accessible and affordable COVID-19 vaccines and to enable international cooperation.
Another resolution with the title "The negative impact of unilateral coercive measures on the enjoyment of human rights" was put forward by the Republic of Azerbaijan, in its capacity as the Chair of NAM and was adopted by the Human Rights Council at its 46th session on 23 March 2021.
January 01 , 1970