Event dedicated to the transfer of NAM chairmanship to Azerbaijan was held in Paris at the UNESCO Chapter of the Movement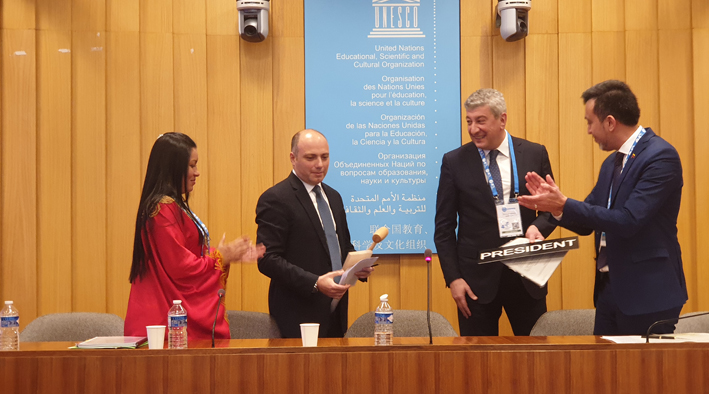 On November 18, 2019 the Plenary Session of the Non-Aligned Movement (NAM) UNESCO Chapter was held.
Speaking at the Session, Mr. Genc Seiti, the representative of the UNESCO Director-General, praised the work of the NAM and its contribution to the implementation of the ideas and goals of UNESCO.
Mrs. Aloha Nunez, Minister for Indigenous Peoples of the Bolivarian Republic of Venezuela, briefed the Session partcipants about her country's Chairmanship in the NAM for the past 3 years. She expressed her satisfaction with the assumption by Azerbaijan of the NAM Chairmanship. Expressing her confidence that Azerbaijan will do its best to strengthen the Movement, Mrs. Nunez wished success to Azerbaijan in this new mission. Following her speech, Minister A. Nunez officially handed over the Chairmanship of the NAM UNESCO Chapter to Mr. Ramiz Hasanov, Deputy Minister of Foreign Affairs of the Republic of Azerbaijan.
Mr. Anar Karimov, Permanent Delegate of Azerbaijan to the UNESCO, in his capacity as the new Chairman of the NAM UNESCO Chapter, stated that Azerbaijan will spare no efforts to successfully conduct the Chairmanship of the NAM Group at UNESCO in the coming 3 years and to contribute to strengthening cooperation and solidarity within the NAM, as well as to increase the role and visibility of the NAM at the UNESCO.
In his speech, Deputy Minister R.Hasanov briefed the delegations about successful organization of the 18th NAM Summit in Baku and its outcomes. He noted that during its Chairmanship in the Movement, Azerbaijan will build its priorities and activities based on the historic Bandung Principles and will endeavor to ensure inclusive cooperation among the NAM members, as well as with the UNESCO Secretariat, with a view to strengthening the role and raising the profile of the Movement in this Organization.
December 24, 2019